Are you an aspiring athlete or gym addict who can't face yet another bowl of cereal?
As the sports nutrition consultants for the Cardiff Devils, we've spent a lot of time considering the best food ideas for athletes who push their bodies to the limit.
The best place to start is to think of food as fuel. What is the best way to fuel your body to give it enough energy to get the desired results?
While cheat days and nights off are great, a balanced diet of good food is essential – you wouldn't fill your car with the wrong fuel so why do it to your body?
The food you eat before and after exercise means you can push your body to perform to its best and allow your muscles to recover afterwards, while maintaining a healthy lifestyle that doesn't forego flavour.
If you're heading out for a 10km run or a 2 hour gym session, you need sustenance and stamina. Healthy, protein-packed foods should be on the menu at the start of every day.
With that in mind, we're sharing 12 breakfast and food ideas for athletes and gym addicts who want to eat healthy without sacrificing flavour – it's easily done, we promise!
Sweet or savoury, avocado or peanut butter, eggs or bacon – whatever you pick, make it the breakfast of champions. We believe in you! 💪
#1 Overnight oats
Place your chosen oats in yoghurt in the fridge overnight, and serve in the morning with a few fresh berries. Overnight oats are great as you can customise them with hundreds of flavour & topping variations!
#2 Smoked salmon on seeded wholemeal toast
Smoked salmon's brilliant as it gets oily fish into your diet. Serve with seeded bread or wholemeal toast and a slice of cucumber.
Smoked salmon on toast recipes
#3 Wholemeal toast, pure peanut butter, sliced banana or strawberry
This one seems too good to be true… Bread? Peanut butter?! As long as you use healthy wholemeal and fresh fruit, you can't go far wrong!
Peanut butter & banana toast recipe
#4 Breakfast muffins
A great grab & go breakfast for those of us in a morning rush. They can be prepped beforehand and, again, you can use any flavours or fillings you want.
Egg, chorizo, peppers, bacon, spinach – the world is your muffin!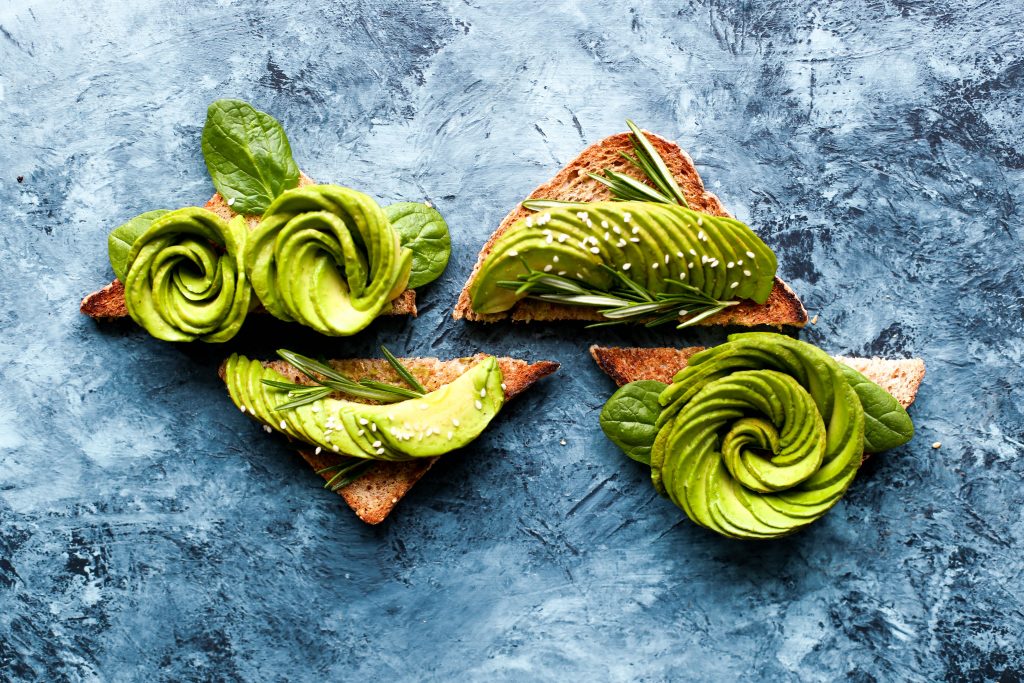 #5 Avocado on toast with eggs or smoked salmon
Okay, it's unlikely we could make our avocado toast look as good as the photo above – #toastgoals for sure – and who has the time anyway?
Luckily, there's a huge range of easy avocado toast recipes out there so you can mix 'n' match your ingredients. Extra points for carved flowers and leaves!
14 of the best avocado toast recipes
#6 Greek yoghurt drizzled with honey & walnuts
A Spiros favourite! Creamy Greek yoghurt with honey and walnuts is incredibly healthy – but you can add just about anything! Nuts, berries, granola and fruit sauces are all great.
#7 Boiled eggs & soldiers
Simple and easy, and packed full of protein. Swap the toast for asparagus tips for a healthier, greener alternative.
#8 Traditional cooked English breakfast
Surely there's no way a greasy fry up is good for us, right?!
Actually, just by choosing your meat a little more carefully or cutting the fat off your bacon, you're turning a traditionally unhealthy plate into something much better for you – sing hallelujah!
A healthy cooked breakfast recipe
#9 Eggs, poached or in an omelette
Eggs, whether they're poached or in an omelette, always make a great breakfast. For poached eggs, pair with salmon or avocado for extra health points. For an omelette, throw in anything you love – onions, ham, mushrooms etc.
#10 French toast / eggy bread with bacon & syrup, American-style
Whatever you call it, French toast / eggy bread is a mouthwatering marvel in the food world.
On a cheat day, serve American-style with bacon and syrup. On a healthy day, serve with fresh fruit embedded into the toast. Drooool.
French toast with bacon & syrup recipe
#11 Pancakes & protein
Pancakes don't always have to be coated in Nutella or sugar (although they're delightful when they are).
Adding a protein mix and berries or bananas to your pancakes will give you the ultimate pre-gym health kick.
#12 The humble bacon sandwich
Saving the best 'til last…? By making a few small adjustments – cutting off the fat, using healthy bread, adding a bit of spinach, rocket, tomato – you can enjoy your favourite breakfast buttie, guilt-free.
If you're feeling conflicted about what to eat, remember this great mantra to live by: be kind to your body and give it what it needs. 
We hope you enjoy our food ideas for athletes & gym addicts! Let us know which recipes you try in the comments below.
---
Like this post? Try some others!
To receive more tasty updates from us, sign up to the Spiros mailing list.
SaveSave