The next time you open up Instagram to take that perfect #foodie snap, use our masterclass on how to present food like a professional chef to make your meal (and photo) pop!
Over the past decade or so, the unstoppable rise of Masterchef and The Great British Bake Off has led to an increase in home cooking & experimentation – it feels like every amateur knows how to present food like a professional chef!
As we've seen on these TV shows (and on social media), the plates and meals that look the most impressive are the ones that stick in your head. Wilted leaves and accidental sauce sluices just won't do. For that extra special food flair, we need colour, vibrancy – a story on the plate.
Alongside TV, Instagram has transformed itself into the home of aesthetically-pleasing food, meaning the urge to learn how to present food like a professional chef is greater than ever.
After all, cooking soothes the soul – and plating it beautifully is the perfectly-placed cherry on top.
So, with our years of experience in quirky and haute food presentation, we're sharing our top tips on food presentation.
Whether you're cooking for guests or yourself, use our guide to make sure your next meal could've come straight from the kitchen of a 3 star Michelin restaurant.
#1 What's your chosen dish?
Theoretically, all meals should be able to look beautiful and intriguing – until you remember lasagne or cottage pie. Not all foods can look as wonderful as they taste. We recommend keeping your comfort food casual, and making your first foray into food presentation a dish that's a little more 'fine dining'.
Foods to avoid
– Family-size servings of lasagne, cottage pie, shepherd's pie, casserole etc
– Too many beige foods e.g. potatoes, pies, chips, rice
– Watery foods e.g. stew, soup, tagine
Great foods to try
– Colourful vegetables
– Food that can be crushed or crumbled e.g. biscuits, crackers, herbs
– Slices of fruit / berries
– Single portions of meat e.g. one chicken leg, one skillet of pork
– 'Mini' versions of food
#2 Colour can come from surprising sources (or sauces!)
"Aside from taste, we eat food visually. The first thing I think about is colouring: you want to have a nice balance of colour on the plate." – Kuniko Yagi, chef at Hinoki & the Bird, LA
For a truly spectacular plate, think about complementary colours. Use this colour wheel to see which colours and shades match well – it's great for making you think outside the box in colour combinations.
If you feel your meal isn't quite colourful enough, sauces can come in handy. From salad dressings to vegetable purees, sauces are a cheatsheet in delicate presentation and a welcome addition of colour or texture.
#3 Start from the inside out on the plate
When plating your food, try to place every item on individually, rather than let things roll in off the baking tray or frying pan.
Begin from the middle of the plate. Think like a flower: most of the bulk can be found in the centre, but there's plenty of beauty in the petals.
Placing the majority of the food in the centre and working outwards with garnishes and sauces gives your plate (and photo) an eye-drawing focal point.
#4 Use a white backdrop
Over the years, we've used all kinds of coloured plates, depending on the venue. But, for a first try, we'd recommend sticking to a white plate. Or plain, at the very least – patterned china can distract from the main feature of food!
Pro tip: use a kitchen paper towel to wipe around the bare edges of the plate once the food's on. This will remove any excess grease or bits of food, leaving the plate pristine.
#5 Have fun with shapes and patterns
We were always told not to play with our food – thank goodness we didn't listen!
Arranging items in shapes or getting fancy with sauces – in spiral or zigzag shapes, for instance – is what'll transform your plate into an incredible piece of art.
Stacking or overlapping banana slices or nudging your green beans into the shape of a star are a good place to start.
#6 How to present food like a professional chef: paint by (odd) numbers
Even numbers of things on a plate are never as interesting as odd numbers.
If you're preparing fun-sized food (below), a scattering in an odd number looks much better than four laid out in a square.
Just in case, cook an even number. Then you've got a backup if anything goes wrong – and you can eat the extras as you cook!
#7 Not all garnish needs to be parsley
Although we'd strongly recommend stocking up – it does look great on top of almost everything.
But for some dishes, you can get creative with your garnish. A final touch of crushed or crumbled biscuits on a dessert gives it that professional edge.
Exploring the herb section in your local supermarket will give you a better idea of what attractive garnishes you could try next.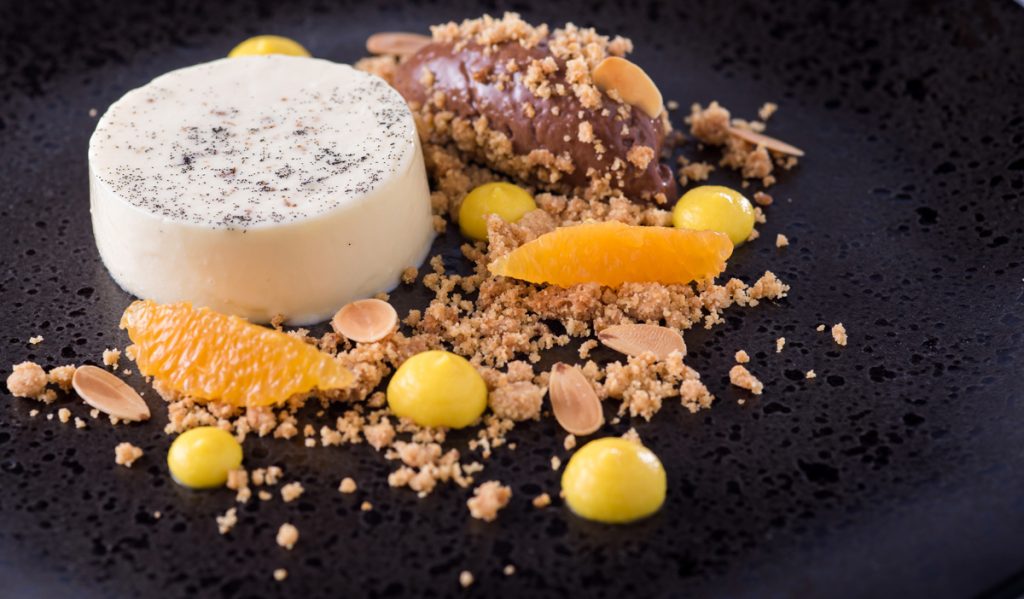 #8 Tell a story
If you can't find a clean, one-colour surface to rest your plate on, why not make a scene?
Using your cooking utensils or additional bits of the meal to surround your plate can give your dish a more rustic, homemade feel, without losing any of the gloss.
Showing the sugar, the spoon, and the lemons (below) is a great visual story of what went into the final product – especially handy for cooking & baking lovers with blogs.
#9 Have the right equipment to hand
Trust us, you won't be able to place tiny droplets of chocolate using any old spoon! Using professional tools will take you up another level and make your plates neater and cleaner.
We'd recommend tools like:
– A melon baller for perfectly-formed balls of fruit
– A julienne peeler for making neat noodles out of veg
– A chocolate shaver
– A tapered spoon for accurate droplets and sauce drizzling
– A plating wedge to make sauces and jus more interesting
– Food moulds for blocks of rice / desserts – in circles or pyramids
You can always get creative – mason jars and conical chip holders can be bought in most homeware shops, and refresh the art of food presentation.
While restaurants have been updating their serving containers for years and getting eye-rolls for it – bread in a flat cap, anyone? – there's nothing stopping you from updating your usual dish style.
#10 Practise when you can – but don't lose the joy of food
It's important you don't get disheartened if your deconstructed Sunday dinner looks a little messier than you anticipated. Learning how to present food like a professional chef takes time, and food is wonderfully unpredictable!
And while it'd be great to be the friend everyone associates with 'fine dining' or 'special meals', and your Instagram would be totally gorgeous, food's to be enjoyed, at the end of the day.
If you fluff one meal, chalk it up as trial-and-error and dig in. It's there for the eating, after all!
Need a little more visual inspiration?
Take a look through some more photos of our plated meals and desserts over the years for some extra insight into how to present food like a professional chef.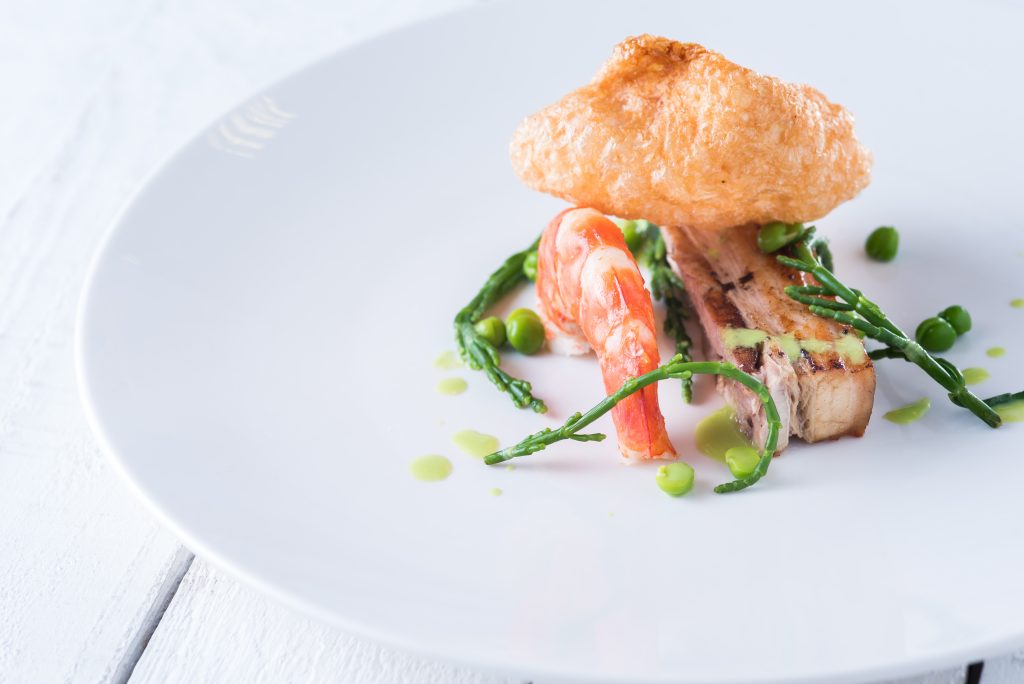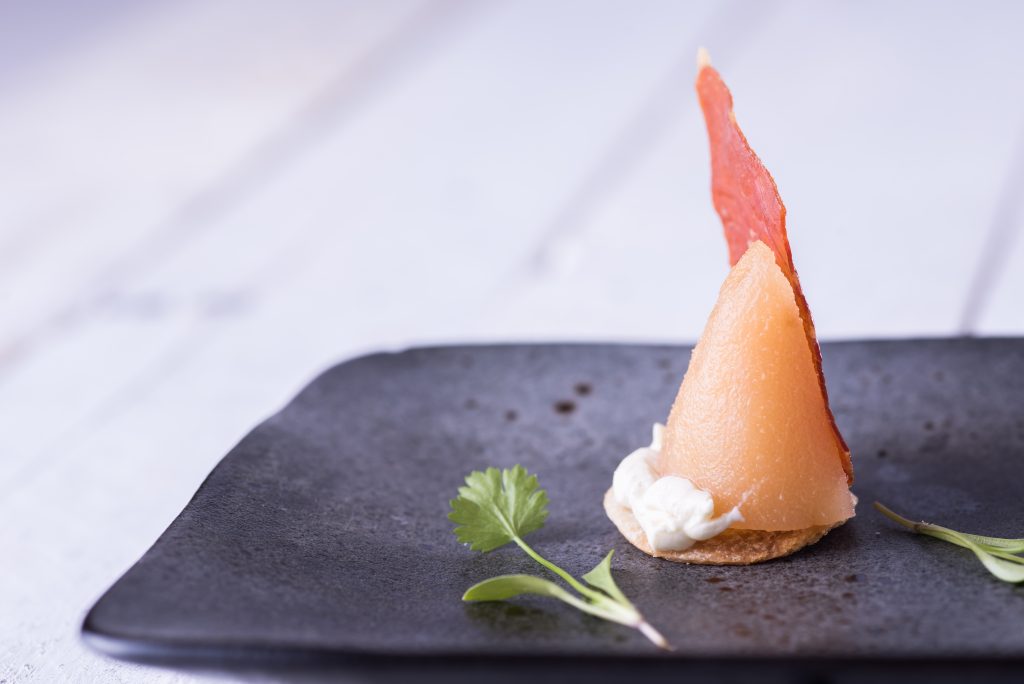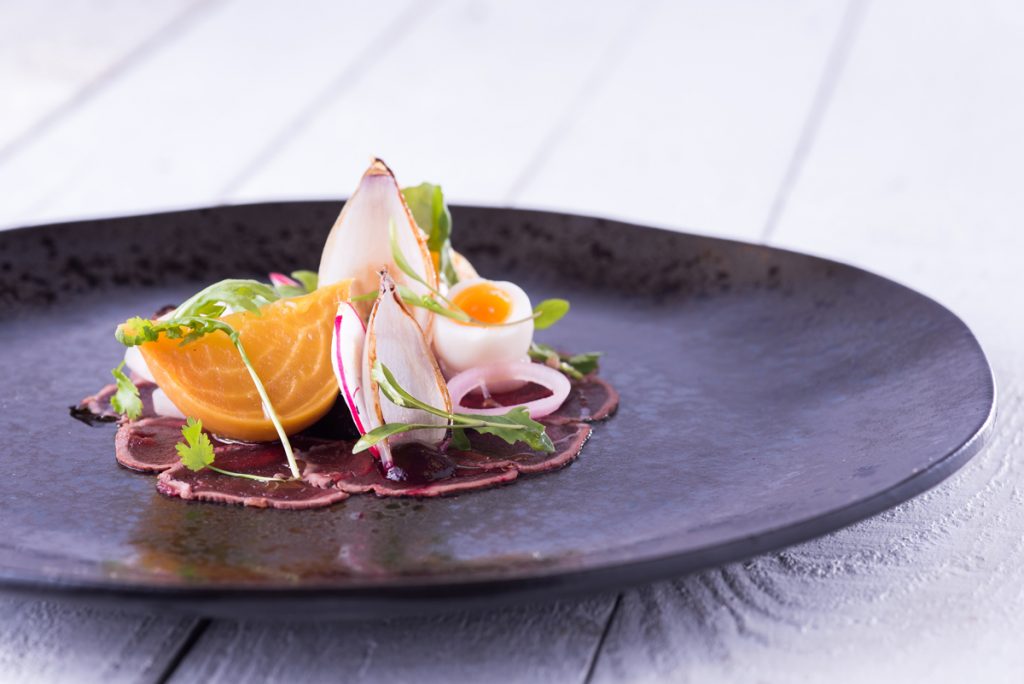 ---
We hope you've enjoyed our masterclass in how to present food like a professional chef!
Like this post? Try some others:
To receive more tasty updates from us, sign up to the Spiros mailing list.