As experienced caterers, we know what works when it comes to planning your event. That's why we've partnered up with some of the most professionally run and beautiful venues around.
Every month we'll be choosing one as our 'Venue of the Month'; this time, it's the rustic and rural Rosedew Farm!
For the newest venue on our list of gorgeous locations, we've got an antique barn setting that brings a rural, homegrown touch to any event.
Located in Llantwit Major, in the foothills of an iron-age fort and a secluded valley that leads to the beach, Rosedew Farm is a throwback to a time gone by.
Similar posts:
What type of venue is Rosedew Farm?
Rosedew Farm (also known as Farmers Barns) is a working family farm with eco-friendly accommodation that is handily nestled between the beach and woodland in Llantwit Major.
Wedding receptions, parties, corporate events, and fundraisers primarily take place inside The Great Barn Function Hall. While overnight guests can stay in up to seven various venues across the farm – including glamping tents, wooden lodges, old-fashioned cottages and more.

Photo credit: Sacha Miller
With stone walls, large arched windows and ivy-coated buildings, the renovated Rosedew Farm is a place that has both a cosy and comfortable throwback to history and a contemporary touch (so your guests don't have to fully leave the 21st century).
The cottages and accommodation come equipped with facilities like large living rooms with flatscreen FreeView TVs and a bespoke kitchen with touchscreen appliances. Plus, there are private patios with BBQ equipment so you can enjoy the beautiful outside after dark.

Photo credit: Visit The Vale
What's the area like?
The town, just 5 minutes away, is quaint and sweet, like stepping back through the pages of a medieval book. It has a full sweep of restaurants (some that'll even deliver straight to your cottage door on Rosedew Farm) and over 15 listed buildings rich with fascinating history.
In the other direction you'll find Cwm Colhugh beach, typically known as 'Llantwit Major beach'. While not great for sandy sunbathing, this atmospheric location is unrivalled for wedding photography and lasting memories. Also works well for a 'day after' dinner of fish and chips by the sea…!
What makes it special?
Basically, staying at Rosedew Farm is like escaping to your own private domain on the Welsh coast, with a secluded location catering for you and your guests.

Photo credit: Sacha Miller

Photo credit: Sacha Miller
The farm a hugely popular venue for rustic weddings where lace detail dresses, flower crowns and fairy lights come into their own. There's even a wall made of white roses that's perfect for Instagram posing! A laid-back but looked-after vibe makes Rosedew Farm weddings truly memorable in all the right ways.
Being the brand new caterers for Rosedew Farm, your menu choices – whether for a wedding, party, or corporate event – are completely up to you. We tailor bespoke menus to your needs, but work with owners Rhodri & Gaynor to use local or homegrown produce from the farm itself.
In the summer of 2017, we're catering for a bespoke wedding with the main dish of 'gourmet burgers' on the menu – yum! You can take inspiration from the Welsh locality with a menu that celebrates your heritage, or you can go for something more unusual, adding that extra special something to the day.
What type of event is it ideal for?
As it lends itself so perfectly to weddings, it's no surprise that Rosedew Farm is so popular with bridal couples. Its rural Welsh charm can win over anyone with so many wedding activities whether you love beaches or woodland.
As day turns to night, The Great Barn becomes your own musical concert. There's space for live music, DJ & lights system, and a dance floor adjoined to a bar to keep guests fully-stocked while they party.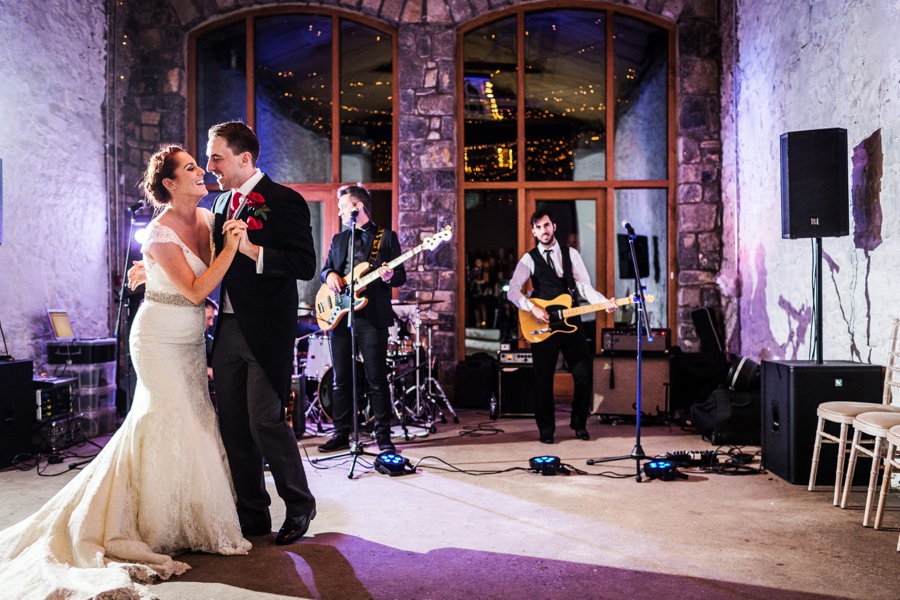 Photo credit: Sacha Miller
With its capacity for space, however, Rosedew is a unique location for corporate trips or away-day out of the office. So, with all that lodging, it's great for family occasions when a party in the local pub won't do.
For an alternative weekend idea, it doesn't have to be so predictable – for the adventurous among Rosedew Farm guests, the camping & glamping accommodation could fit the bill!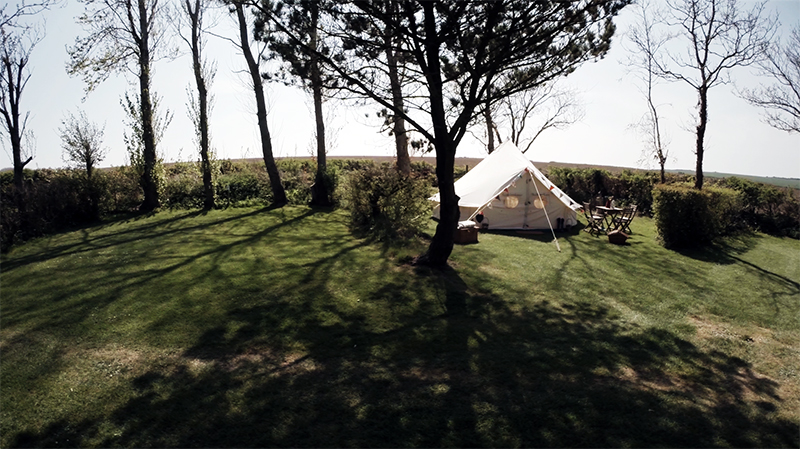 Fully furnished 4 or 5 metre bell tents come with beds, cosy blankets, rugs & cushions, with cooking essentials like a gas stove, pots, pans, crockery, and cutlery. Tents are hidden, secluded and safe within the farm's scenic views.
So, in summary…
Rosedew Farm is the perfect venue choice for a day that feels rustic and rural without losing modern touches. Run by a family of Welsh farmers, it celebrates the authentic Welsh experience.
Its secluded location makes for a private, intimate celebration, and the decorative touches throughout the venue make any event memorable.
Whatever you're planning, Rosedew Farm will do it in style – you'll want to go back to this gorgeous coastal and woodland setting for more.

Photo credit: Sacha Miller
To see more about Rosedew Farm, visit their website.
Want to know about our other venues?  You can see who else we work with on our venues page. Plus, subscribe to our newsletter below and we'll send next month's venue straight to your inbox.
---
Want more food news from Spiros? Check out some recent posts…
To receive more tasty updates from us, sign up to the Spiros mailing list.
SaveSave
SaveSave
SaveSave